Writers are often told to read (and read a lot) in order to know how to write. And while I totally agree with that sentiment, I also think writers can learn from other forms of media. Yes, including TV shows. (Even TV shows adapted from a novel or comic book.) In fact, I think TV is often an easier reference for writers to discuss. Why? Because there are dozens of best-selling novels that come out every week, whereas there's only a handful of TV shows that everyone seems to be talking about. Recently, for instance, the Netflix show The Umbrella Academy began to trend, and it seemed like everyone was chatting about it, including the publishing industry. Perhaps this is because it was adapted from a comic published by Dark Horse Comics. But what I want to concentrate on is how we can use popular TV to teach writers about trends, topics, and storytelling.
How can we use TV to discuss writing? By picking out the pros and cons, of course.
Here's a few based on The Umbrella Academy.
Also, major spoiler alerts begin here. I will discuss major events, including the ending, so if you don't want this show spoiled, bookmark this article now and come back later. If you're not planning on watching, I think this can still be a beneficial example of using TV to discuss writing. If you've already watched and don't care about spoilers, awesome! But make sure to warn your followers of spoilers if you decide to share this piece.
Thanks for keeping entertainment fun!
Let's start with a pro, since I like to concentrate on the positive:
Pro: Siblings with Personality
The Umbrella Academy follows seven children adopted by an eccentric billionaire after they were born in quite an unusual way. Six of these seven appear to have superpowers and are raised practicing these powers, with the seventh "ordinary" child being kept from lessons. That being said, the actual show takes place in their adult years. Rarely, do I see siblings depicted so realistically (especially in fantasy, especially in big families). Each sibling has their own personality, struggles, and place in the family. Even better? They treat each other differently based on their past selves, present relationship, and future desires. I really enjoyed watching the brothers and sisters bicker as much as joke, and lift each other up (while also pushing each other down). You know, complications. Too often we see a brother or sister appear in a minor supporting role with little to no depth or personal drive. And we definitely don't see enough big families. I absolutely loved them and thought they were believable, round characters. (My only complaint on these particular siblings was the relationship between Allison and Luther. Non-biologically related siblings who have romantic tension isn't necessarily my issue. My issue is that I found it uncomfortable, based on the fact that they were raised from birth together, as compared to similar tensions found in cases where they were not raised together, i.e. Avery and Atlas in The Thousandth Floor by Katharine McGee.) But that is a personal preference and a different discussion for another day.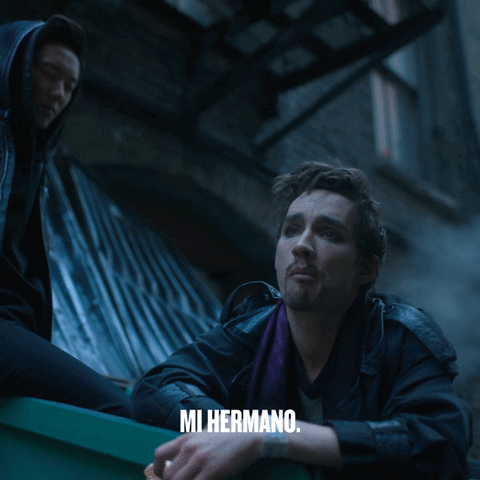 Con: Female Tragedy for Male Depth
Far too often female characters suffer trauma, including death, in order to push male characters forward. Now, I'm not saying female characters cannot suffer, or die, but when the suffering of a female character (or any minority character) exists solely to push the male character into growth, then I'm not happy. This particularly happens with Diego, whose girlfriend Eudora dies for no other reason than to have Diego question his purpose, not once, but a number of times. When it isn't Eudora pushing him, then it's his mother, a robot, who he has to turn off at one point. A simple solution would've been emphasizing Diego's desire to make his childhood suffering mean something by becoming a superhero (though this is only mentioned once, by – you guessed it – Eudora, right before she dies), while highlighting Eudora's personality as someone who always had to follow the rules, who then dies when she finally agrees to break the rules (though this only happens, because – you guessed it again – Diego dared her to). Ultimately, these topics were barely touched in comparison to Diego's rage over her death. This caused an uncomfortable situation where the male character could not grow without two female characters being hurt, or more specifically, killed. This also happens later in the show with Luther and Allison, as Luther consistently decides he exists in order to protect her by forcing his decisions on her. Not to mention Allison gets her throat slit once, which further takes her voice away. Now, granted, I will acknowledge that Allison's powers exist in her ability to speak, so her losing her voice is far more symbolic than just Luther trying to oversee her decisions, but the combination of Luther's lack of boundaries mixed with her silence bothered me. (Probably because the other brothers become complicit in it.) In contrast, the female characters are not driven by male pain. Allison is driven by her daughter, and Vanya is driven by her need to be accepted. The only instance where we see a female character driven by male pain is with Vanya, who reacts violently when her boyfriend "Peter" is hurt in a fake fight. Even then, though, the ultimate attention is averted from Peter and placed back on Vanya's inability to control her powers. This sort of emphasis could've easily gone the other way with the male characters as well. Basically, it's not about one gender causing another gender to react, but rather the emphasis at which it is focused on and what it means. We can do better.   
Pro: Humor Mixed in with the Serious
We do not have enough humor in fiction. That goes for flat-out humor books, as well as humor sprinkled throughout other genres. It's one of the reasons I often find 600-page fantasy novels exhausting. (Which, by the way, is the main type of book I read.) I have found that the fantasy novels I love the most include moments of quiet, as well as humor (and from numerous characters and situations). The Umbrella Academy kills with their humor, especially with Klaus. I wish I could expand (because my negative sections feel longer than my positive), but this love is pretty straight-forward. I want more humor in everything.  
Con: Villains Suffering From Mental Health and Broken Homes
Listen, I get it, villains are supposed to be evil, and evil things can happen because of untreated mental illness. I'm not denying that. However, evil comes from non-mentally ill places as well, but modern entertainment is still leaning towards one more than the other, especially when it comes to female characters. I feel like it's an overused trope, especially when clear lines aren't drawn and discussed. The worst part for me in The Umbrella Academy is how unclear they made Vanya, especially when using her childhood flashbacks. It is never clarified if her powers are causing her to kill or if she, herself, has mental health issues and those issues were exacerbated by her powers, not to mention her father's decision to cover her powers up without telling her even into adulthood. By not clarifying, especially when she begins to hallucinate (something that could be seen as schizophrenia), the art is setting up viewers to interpret mental health vs. evil, or even blending them, and I don't like that message. We need to do better when it comes to depicting mental health. Take the time to clarify, even it means clarifying that no one truly knows. Without that, we will continue to get the same images, in this case, a young Ellen Paige discussing anxiety and nerves while shakily popping pills, then adding a montage of killing nannies as a child before she was on medication, (when no one else is depicted to be using medication or to have anxiety or anything), and that's unacceptable. On a side note, I also hate that the male villain comes from a broken one-parent home. Is it just me, or is the only "positive" depiction of one-parent homes in popular entertainment Gilmore Girls? I'm probably biased, because I grew up in a one-parent home after my mother suddenly died. My dad raised me, and he is awesome. (I'm obvs. sick of seeing deadbeat dads, too.) Most of all, I'm really, really tired of watching motherless children become the epitome of evil, while orphans become heroes. Not that orphans can't be heros, but why is it that losing two parents equals a superhero cape and adventure, and losing one means anger and doom? And where are the villains who come from "good" homes? And the heroes with two parents? And, and, and. We need more variety.   
Pro: Mashup of Tropes
The Umbrella Academy is a master of mashing up common tropes in unique ways. What do I mean by that? Well, as most writers know, nothing is new. With hundreds of years of literature behind us, everything has been done before. Writing isn't about creating something no one has created before, because – spoiler alert – someone has created it. Instead, writing is about creating something new by using what we already have in unique ways. And The Umbrella Academy kills it, specifically with science fiction and fantasy tropes. To name a few, we have superheroes saving the world, a boy who sees dead people, a time-traveler, a monkey who has been experimented on until it's more human than monkey, and a girl who thinks she doesn't have powers (but, duh, she does), who is also the person who can't control their powers. We've seen these characters and abilities depicted dozens of times. So how was this show unique? Let's look at Klaus, the boy who sees dead people. Instead of trying to scare the viewer with Klaus's powers (think Fifth Sense), The Umbrella Academy focuses on how Klaus himself is scared and how he has coped (or failed to cope) with his powers. Not to mention his dead brother Ben who follows him around to try to help him cope with his drug abuse. Learning to utilize tropes is an important aspect of writing in any genre, and I'd point any sci-fi/fantasy writer toward The Umbrella Academy for a lesson on that. In fact, I could probably write another ten pages on every trope the show used and how it spun it in a fun, entertaining way. But I've already rambled enough on here.
Con: Non-Ending Endings
There's a big difference between a cliffhanger and a non-ending. Cliffhangers leave the reader or viewer wondering what will happen to the characters after the ending wraps up most (if not all the questions) posed at the beginning of the book or show. A cliffhanger is a hand popping up from a grave after the characters killed the villain, only for the villain to come back to life. A non-ending ending is when the villain and the hero are finally facing off and someone holds up a gun and shoots, but we never see where the bullet goes or who shot the gun or if it did anything at all. In my opinion, I felt like The Umbrella Academy has a non-ending ending. The entire time it's focused on surviving this impending apocalypse, only for when it hits for them to disappear to some mysterious non-named time period in the past due to their time-traveling brother. It feels really cheap. Honestly, I think it could've been a cliffhanger if they had showed us exactly what time period they went to. Or even their childhood with the father standing before them, ready to train Vanya with them instead of ostracizing her. It would wrap everything up, but would still make us wonder if the solution would work. The fence between a cliffhanger and a non-ending ending is thin, but I feel like creators have begun to favor non-ending endings more than actual cliffhangers, and it drives me crazy. (And not in a good way.) I love cliffhangers. I'm happy to be enticed to the next season. But don't make me feel like I wasted my time by telling me nothing by the end either.
In non-writing related notes: I loved the soundtrack and cinematography and the storyline in general. In fact, they played one of my favorite writing songs ("Run, Boy, Run" by Woodkid) and even made it the title of Episode 2. (If you haven't watched the music videos for Woodkid's entire album, do it now. It's pure art.) I also loved the sets and directing style of nearly every scene. And not going to lie, I was super happy to see Hazel and the donut lady end up together. (I've never been so invested in a side characters before.) The show is super entertaining, and I'd highly recommend it to sci-fi/fantasy fans. I enjoyed myself a lot, and actually made the time to finish all 12 episodes (which is rare for me). I would definitely check out another season. And I felt like I was reminded of a lot of writing skills.
So do you think writers can learn from watching and discussing TV and movies?
If so, what shows do you think are good examples?
Tell me about them!
~SAT